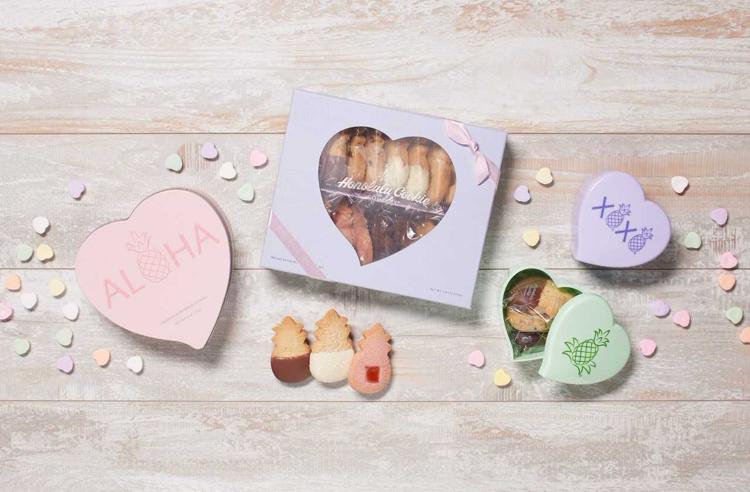 HONOLULU – Express your love this Valentine's Day with cookies inspired by paradise – where Honolulu Cookie Co. bakes them fresh each day. Deep chocolate flavors combined with Hawaiian macadamia nuts – and additional tropical tastes like coconut, guava and Kona coffee infused into individually wrapped cookies, are scrumptious ways to make anyone feel special.
"Sweets for every sweetheart in and around your life, Honolulu Cookie Company's pineapple-shaped, premium shortbread cookies in a rainbow of flavors are offered for gifting in pastel packaging with a heart theme, like conversation hearts, but with a richer message inside," stated a release from Honolulu Cookie Co.
The lavender XOXO Heart Box and the mint green Pineapple Heart Box each contain three cookies in three flavors: chocolate chip macadamia, hand-dipped dark triple chocolate macadamia and chocolate-dipped macadamia.
Sweet and lovely, the pink Aloha Heart tin holds eight cookies in four flavors: chocolate-dipped macadamia, dark triple chocolate macadamia, white chocolate coconut and chocolate chip macadamia.
The collectible heart-shaped containers and tin are themselves keepsakes of the sweet moment of Valentine's gifting.
'Expression of love'
"The largest heart-themed Valentine's Day expression of love you'll find in Honolulu Cookie Co. stores is the large, lavender Heart Window Box, with an assortment of 18 cookies in nine flavors," Honolulu Cookie Co. stated. "The tasty and increasingly popular guava flavor is snuggled in the box alongside the classic butter macadamia, pineapple macadamia, chocolate chip macadamia, chocolate-dipped macadamia, white chocolate-dipped macadamia, dark triple chocolate macadamia, dark chocolate Kona coffee and white chocolate coconut cookies."
The full selection of Honolulu Cookie Co. cookies can be found online at honolulucookie.com.